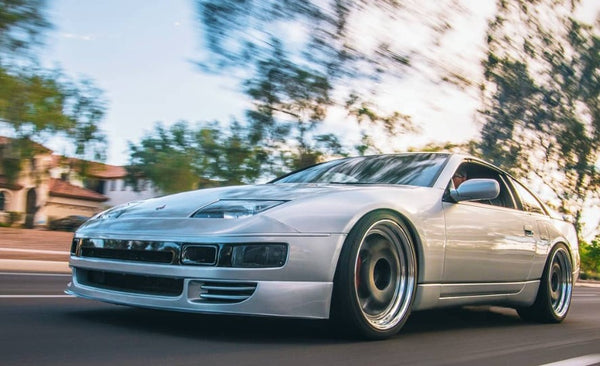 A tale of two Z's
Photos by Astral Photo
Think back for a moment to when you were in junior high.  Fourteen years old, riding around on your bike or skateboard with your friends.  It was a time to get into all kinds of trouble and crazy adventures.  Those memories I bet are etched in your mind.  It's crazy how even decades later you can easily remember very specific days and experiences, good, bad, or funny - you can never really forget them.  For Mike, he was 14 when he and his brother were riding their bikes and he recalls the first time he caught a glimpse of a Z32 300ZX.  Back in 1990, the 300ZX had been redesigned and nothing at the time was as sleek, sporty, and futuristic looking as the new Z32.  Mike and his brother rode by a Nissan dealership and had to stop to check it out.  He remembers exactly the Z he first saw….an Azure Blue Pearl non-turbo with black interior and 5 speed.  From that point, Mike knew that he had to own one (or two) someday …and he did, eight years later in 1999 he bought his first one.  It was an Azure Blue Pearl 5-speed non-turbo…years after that he then purchased his second Z, a Twin Turbo Z32.
You could probably say the journey to getting almost the same exact Z that he first saw when he was 14 was foreshadowing.  How many of us would be lucky enough to buy the car we dreamed of when were young kids.  Having attained his dream car at a young age, Mike spent the next couple of years learning about the car, putting a few mods here and there to it before he got the itch for more hp. 
Enter his second Z32 and his current car purchased back in 2001, Mike has owned this car for the last 17 years.  His need for more power resulted in fully building the stock VG30DETT bottom end so he could run higher boost off of faster spooling turbos.  Power jumps up to ~600 whp from sub 300 whp on the stock unit running on e85 which is the perfect amount of hp on the street to still be fun and surprise a few people. 
On the exterior, the car sports super period correct Stillen body aero.  After a having gone through a few sets of wheels from Advan and Volk, Mike has settled on a set of beautiful custom dark gray Workmeister S1 3 piece wheels with larger sized calipers and brakes from current day 370z to give him more stopping power.
The interior is uniquely JDM with Bride racing seats surrounded by a cockpit full of OEM level quality install of Greddy, Apex'I, and HKS gauges and electronics.  Top down this car is meticulous with painstaking detail and thought put to every single modification done over the last 17 years.  While there are tons of fantastically done Z32 builds out there, and while we can appreciate the various styles from this era of Japanese tuning, this has got to be one of the cleanest most well executed examples we've ever seen. 
Kudos to Mike for sharing his incredible story about how his current Z came to be.  We at Last Era Brand love the stories behind the builds, and this is one I think we all can relate to.  We hope whether old or young you never let your dreams grow up and that you continue to strive towards having that car one day.
Here is a rundown of his Mike's build summary. You can follow him on Instagram by following @youloze
Engine/Drivetrain:


E85 converted
JWT Sport 550bb turbos
Mike Smith Exhaust Manifold
JWT 400 cam
Wiseco pistons
Head work
Nismo 740cc injectors
300 Degree fuel rails
Dual Intakes
Full 2.5" intercooler piping
Stillen Intercoolers with 2.5" modified inlet/outlets
JWT ECU
SZ 3" Downpipes
SZ 3" to 2.5" Testpipes
B&B 2.5" Stainless Steel quad oval exhaust
10 rear gears
98+ J Spec transmission
Southbend 6-puck ceramic clutch
Powertrain Industries one piece driveshaft
ASP crank pulley
HKS SSQ Bov's
GReddy Profec B boost controller
Apex-I AFC
Suspension/Brakes:

Tein RA coilovers
SPL adjustable tension rods
Powertrix front upper control arms
Powertrix rear upper control arms
ST anti-sway bars with end links front and rear
370z Akebono front brake calipers and rotors
Wheels/Tires:
Work Meister S1 with Matte Gunmetal faces and polished lips - 19x8.5 +17 front and 19x9.5 +36 rear
Michelin Pilot Super Sport tires – 235/35-19 front and 265/30-19 rear
Interior:
Bride Pro seats and brackets
Jspec shift/e-brake boots
Jspec shift knob
Autometer boost and oil pressure gauges
GReddy Profec B boost controller
Apex-i AFC
Roll cage and 5 point harness
Exterior:
Stillen Type 3 front lip
Jspec taillights/center panel
Smoked front turn signals
90 nose panel with Jspec emblem
Powertrix fog light ducts
Shaved rear wiper
Shaved antenna 
Shaved windshield squirters