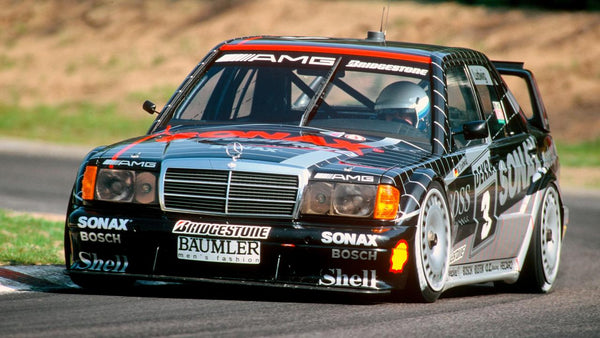 Stuttgart 1990: The Evo II takes DTM Touring by storm
Stuttgart 1990: The EVO II is born, bred from the prior 190E and Evo I models that came before it, the EVO II represented Mercedes' aim to take down both Audi and BMW whom dominated in DTM racing in that era.  From 1990 thru 1993, the EVO II briefly took the DTM crown from their rivals with the success being led by legendary racer Klaus Ludwig. It took a couple years after the EVO II started racing in the DTM Championship before it finally captured the championship, being beat out by Audi in 1990, getting very close in 1991, and finally achieving the feat in 1992 with the EVO II securing 1st, 2nd, and 3rd for the season.   
The roadgoing homologation version was debuted at the Geneva Motor Show in 1990 as well, and before it was unveiled all 500 units were already sold and spoken for.  Mercedes launched the car in only one color, blausschwarz (blue/black metallic), although 2 units were produced in silver likely as test cars for Mercedes and AMG prior to their full production run. 
Each EVO II featured upgraded aero with a huge rear spoiler and aggressive front splitter, brembo brakes, 3 setting sport suspension, and a tuned 2.5 liter motor pushing power to 235hp.
Source: autoevolution.com
Source:  wsupercars.com
The wider flairs, splitter, rear wing and aero were designed by Prof. Richard Eppler from the University of Stuttgart. Wheels were 17"alloys in 6 spoke configuration. At the time, the chief of R&D at BMW joked that "the laws of aerodynamics must be different between Munich and Stuttgart; if that rear wing works, we'll have to redesign our wind tunnel." 
Source:  mb190e16v.com
The Evo II included the AMG PowerPack in an 2.5 L inline four engine producing a maximum power output of 235 hp and 181 lb⋅ft of torque.  
Source:  mb190e16v.com
Today, the EVO II can be found in the wild, but given its collector status many will be garaged and coveted outside the public eye.  They cross the auction blocks now and again, and is estimated today command upwards of $300K in value.   The EVO II represents an important piece of the Mercedes and AMG pedigree and race history in the 90's and will always be regarded as one of the greatest DTM legends.
Video by Mercedes-AMG