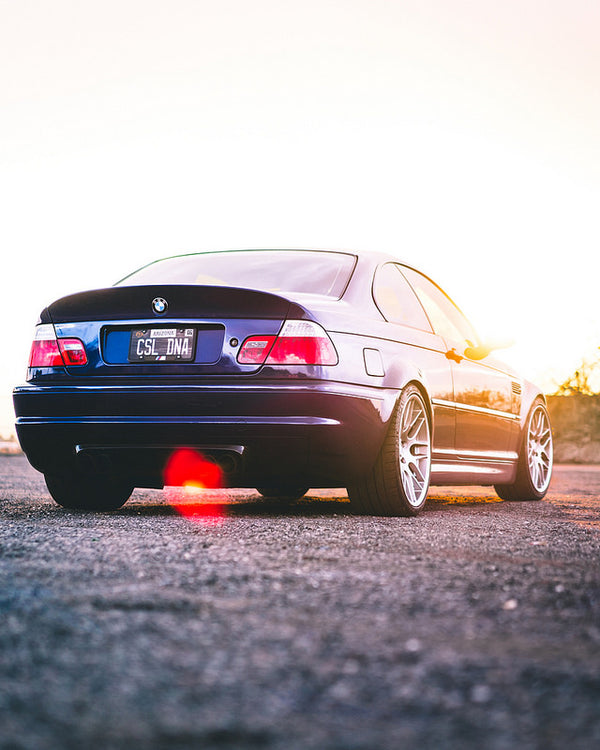 E46 M3: Chasing N/A M Greatness
PHOTOS BY @CSL_DNA
It's hard to leave well alone isn't it?  No matter how good something maybe, we all have the audacity to think we can make it better than how it came.  And it doesn't get much better than one of the greatest M cars of all time, the e46 M3.  Ask around and you'll get no shortage of opinions on what makes this generation of M car so legendary.  But one thing is clear, M cars were not built the same way after this era.  The e46 M represents the last raw, NA, high revving, inline 6 in a road going M3 and Garrett Fennell's CSL inspired build is as good as they come. 

Garrett's search for an e46 M3 started in 2012, as the more recent e9x M3 was wrapping up its production run.  He was determined to find an example in Alpine White color and stumbled upon this '05 Interlagos Blue ZCP 6spd.  After purchasing it sight unseen, Garrett recalls taking delivery of the car and being awe struck by the unique color as it was rolled off the truck.  Later he would learn that this particular color spec was 1 of 984 built in the world of the ZCP package of over 85,000 e46 M3 units produced worldwide. 
OEM CSL Wheels 
KW V3 COILOVERS AND CSL SUSPENSION
The car did not stay stock for long, Garrett immediately went to work by overhauling the suspension with a set of KW V3 coilovers and other suspension components which provided a more aggressive lower stance and precise handling characteristics.  The early build years consisted of a lot of trial and error especially when it came to wheel selection.  Garrett debated on going full aftermarket look or sticking closer to OEM+ aesthetics.  After a series of wheels from sets of Volk CE-28s, to Apex Arc 8 wheels, he settled with what looks to be the perfect subtle yet aggressive OEM CSL wheels which he sourced directly from France.  This wheel choice, set off  his quest to source as many original CSL parts as possible for his build.  Seeing as the M3 CSL was a specialty model only available in Europe, it took months to find the correct parts and even longer to get them stateside.  From OEM CSL carbon fiber door panels, carbon center console, decklid, diffuser, strut bars, and the coveted CSL Carbon Airbox, this one made by Karbonius, he did it all the way right. 
OEM CSL CARBON AIRBOX, THROTTLE BODIES, and CAMS
OEM CSL DECKLID
After this round of CSL parts, Garrett's M3 was as close to an OEM CSL on this side of the pond, only missing CSL seats and OEM carbon roof/small bits.  Back on the road, Garrett's car was completely transformed.  Like a true NA car, revving to the 8,400 rpm redline is always an occasion in itself, but the intake noises from the carbon CSL airbox, coupled with the high pitched wine of the straight six delivers a cacophonous noise that is unmatched. Even the vaunted e30 or even e36 m3 couldn't hold a candle to the noises this car now makes.    No loud droney exhausts to cover up the symphony of the e46 M3's straight six motor.  Inside, the carbon panels create an even more connected driving experience.  Chasing perfection was always a difficult mission for Garrett, but this stage of his build had surpassed his even high expectations.  He succeeded in turning a great car into an iconic one.  His CSL inspired build will be timeless, appreciated by fellow enthusiasts as a great tribute to the last great era of NA M cars.  Since then, he has done more modifications, most notably swapping out and doing a full interior color swap proving that perfection is only a fleeting concept, until it's not again.   
Follow Garret on IG to keep up with his build @CSL_DNA.
SWAP CINNAMON INTERIOR (PREVIOUSLY CSL CARBON DOORS)
OEM CSL CARBON REAR DIFFUSER, EXHAUST